Nat Jay is incredibly excited to share with you her new album, The Flash of a Fight, out TODAY on all digital platforms. Click here to listen
Read on to hear a message from Nat about the creation of the album...
Creating The Flash of a Fight was a learning experience for me. It was a lesson in the practical (songwriting), but also in trust; trust in the people around me and trust in my ability. These are a few things I discovered about myself during this process: 
I thrive with the right team. I'm that person who likes to do it all on my own. I like things a certain way and I know I can rely on myself. But that's also a lot of pressure and can make for a lonely work life. On The Flash of a Fight I decided to let down that wall and invite some team members into the mix. Co-writers Mary Ancheta, Luca Fogale, and of course my producer Ovi all brought a new flavour to my songs. At the same time they allowed me to be myself and gave me the freedom to write how I write. Finding the right collaborators made all the difference, not changing what I do, but nurturing and enhancing my vision to create a whole greater than the sum of its parts.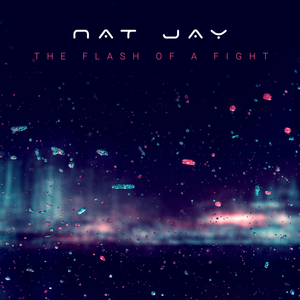 I can adapt. I'm a creature of comfort. I like what I know, and once I've found it, it's a tug-of-war to wrestle it away from me. I've written 95% of my songs with a guitar in hand and a full band recording in mind. The Flash of a Fight brought me a new challenge as a songwriter: write a modern pop song. Put down the guitar and write to a track. I had to shift my focus from the vast expanse of an acoustic folk song to the succinct, rhythmic bubble of the current pop trends. Often using the same musical sample throughout the whole song, I had to find new ways to create movement and separation between the different sections, using more dramatic changes in melody and rhythm. Outside my comfort zone, I was able to take the familiar, push it to grow, and trust it to take on new life. 
I found my strength. When we are so focused on doing what we've always done, we can get stuck in the limits of our ability. Bringing on collaborators to take off some of the weight and challenging myself with a new way of songwriting highlighted a skill set I hadn't been aware of previously: I'm a topline writer. In the pop/EDM/urban music world, this is a legitimate role, meaning a songwriter who writes only the melody and lyrics. It is the most important role in a conventional pop song, since without a topline, it isn't a song. While I can write the other parts, having another writer working on the chords and the track allowed my ability as a topline writer to shine, as I zoned in on creating thoughtful lyrics, innovative melodies, and unique hooks for my listeners to take in more than ever before. Narrowing down this skill set so specifically not only refreshed my love for what I do, but also gave new direction to my career. 
I hope you enjoy listening to The Flash of a Fight as much as I enjoyed making it. If you do, please share it with everyone you know, as this is what helps us indie artists the most! I would also love your feedback—let me know your favourite songs and how they are meaningful in your life. As I have learned through this process, music at its best is a collaborative experience, and I'm honoured and thrilled to be sharing this experience with you. 
With love + music, 
Nat Jay