Nat Jay is excited to announce the release of her new full-length album, The Flash of a Fight, out worldwide on November 22. Read on for the story behind the album...
This album almost didn't happen. After a serious car accident and two abdominal surgeries, one of which led to life-threatening complications, I didn't know whether I had the energy or the passion for creating music anymore, let alone whether I could sing properly. I envisaged the car accident daily. I could feel my scars every time I tightened my abdomen to sing. I thought if I opened my mouth to sing, I would just cry.
I put off the album and didn't write for almost a year and a half. During that time, I was lucky enough to receive grant funding for the recording of the album from both Creative BC and the Foundation Assisting Canadian Talent on Recordings (FACTOR). I honestly thought about giving all the grant money back and walking away.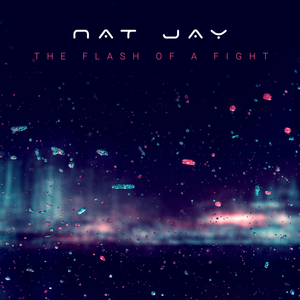 But then, I didn't. And what resulted are the songs on The Flash of a Fight.
I started writing on my own at first, and then decided I wanted to take a more collaborative approach to my writing, and engaged some friends. A couple of the songs stuck: "Déjà Vu," written with Cookie Cartel's Mary Ancheta, and "Quiet," written with artist Luca Fogale. The rest came to life in the studio after finding the right partner in my producer (and neighbour), Ovidiu "Ovi" Bistriceanu.
Ovi and I took a huge risk, as I threw away most of what I'd been working on, and we arrived at the studio each day starting a song from scratch. After hours of talking, we would sit for several more hours in silence, Ovi building a track and me writing the topline (melody + lyrics). We had a mic next to the console, and every once in a while, I would pipe up: "I've got a verse!" – at which point I would stand up and record the part I'd written for safe keeping. We found it difficult to recapture the excitement and magic of some newly written lines when we tried to replace the vocal later on, so we ended up using most of those "first take" vocals on the record.
The Flash of a Fight brought out many new sides to my artistry. After everything I'd been through, I had changed, and so had my writing instincts. They were telling me to try something different, to find a collaborator that could bring out a side of me I'd been hiding: I like pop music! Though raised in a classical household, I spent my teenage years listening and dancing to pop and R&B, and I wanted to find my way back. I was so fortunate to find Ovi, one of the country's most talented pop producers, who encouraged me and made me smile every day in the studio.
I hope my fans will like this shift in my musical aesthetic. I hope you'll still hear the old me: just a girl trying to make sense of life through her songs. But I also hope you'll bop your head or tap your toes to the new electro in my pop. 
Pre-save The Flash of a Fight here.
With love + music, 
Nat Jay